Tai Village Labor Day Weekend Festival
Thank you to all the wonderful volunteers and Tai Village board of directors for putting the festival together. A big thank you to all the entertainers, all the vendors and all our guests for attending the festival.
The 2023 Tai Village Festival will be from September 1st to September 3rd.

Celebration the 20th annuiversary of Tai Village with a special opening ceremony on Saturday, the cultural day.

Thank you to Iowa Asian Alliance(IAA) for the support and sponsorship.
www.IowaAsianAlliance.com
Please come and experience Tai and other Asian cultures. We will have our Native American friends join us this year to help us celebrate our 20th Anniversary of the Tai Village. We ask that you come and celebrate with us! Come out and enjoy this family-friendly event, taste various foods, listen to live music, dance, and meet the others in the neighborhood. Many more events and activities have been added to this year's festival. This event is open to the public! FREE admission and $10 for on-site parking. Note: $5 parking on Friday.
2023 Tai Village Festival on FaceBook.
Thank you so much to all our wonderful volunteers and if you were able to be at last year's festival, thank you for your support. If you have any suggestions or comments about this year's festival, please let us know, your feedback is very important to us.

Miss Tai Village 2013 Pageant photos:

Tai Village Festival- Saturday and Sunday,

August 30 t

o September 1, 2013

[Labor Day Weekend]

Click to see 2013 Festival poster.

Please come and experience Tai and other Asian Culture, enjoy great family time, taste varieties of food, listen to live music, dance and meet the neighborhoods. Many more events and activities are added for this year's festival. This event is opened to the public, free admission and $5 donation for on-site parking.

Early Bird Registration Special- $50 off, deadline June 30, 2013.

note: otherwise deadline for signed up and paid by 8/15, no exception.(We will start taking application in May for all vendors)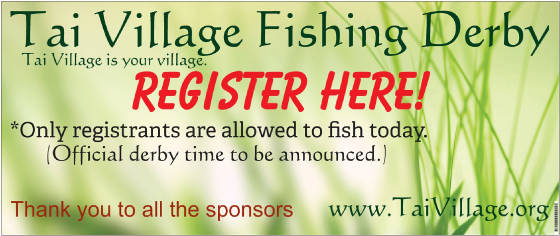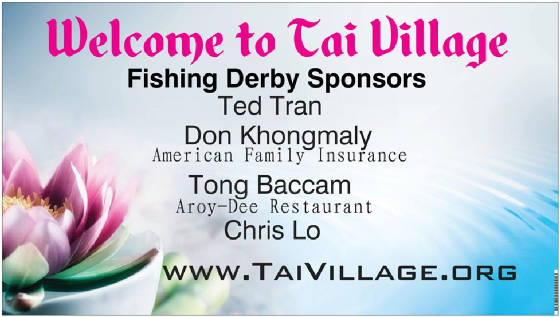 Fishing Derby sponsored by: Ted Tran, American Family Insurance(Don Khongmaly), Aroy-Dee Restaurant(Tong Baccam) and Chris Lo. $20 fee per angler, which includes Tai Village 2012 fishing T-shirt. Fishing on Saturday from 9am to 3pm, 2-$500 fishs, plus bonus $50 fish and plenty of $20 fishs, Please bring your favorite fishing gear. May the best angler win and have the bragging rights for 2012.
Note: Special thanks to Ted and Dr. Therese Tran for overseeing the fishing derby event.

Ted Tran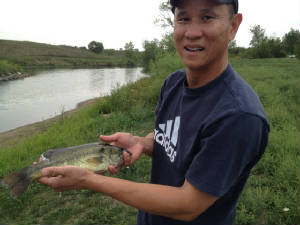 Tagged bass is worth $500.

Dr. Therese Tran.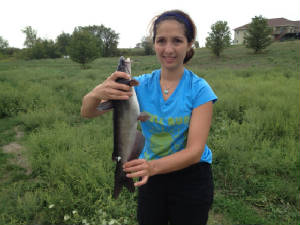 Tagged catfish is worth $500.