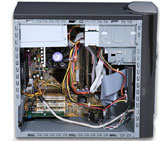 Build your own system or let us upgrade your old unit, we can also build you a customized system that will meet your needs.


32x10x40 CD-RW With Software.

This Month's Specials *No rebates needed*

BTC 32x10x40 IDE CD-RW Drive (Beige).

The BCE 3212M combines excellent storage functions with fast 32X write speed for CD-Recordable media and 10X speed for CD-ReWritable media. Meanwhile, fas 40X read speed meets the demands of today's data's data-intensive applications. All these functions are combined on a single drive, no additional CD-ROM is necessary. The BCE 3212IM is very easy to install, as it supports Plug-and-Play for all PC operating systems, including Windows 95/98/2000/NT and Windows XP.
Free hardware and software installations with purchased parts, with exception to motherboard.
Please call or E-mail us to place your orders.
(515)274-5965